Partnering is an excellent method to grow your business, but how do we even know we are selecting the best partner to capture a specific market opportunity?
Once a company defines its market expansion strategy and picks which target markets to pursue with partners, the next challenge becomes execution. You may have seen examples in your career of companies trying to expand into new markets via partnerships, and the end result is, after a lot of money is spent, that the partnership is not successful.
This is where a partners scorecard tool can be utilized to identify and qualify partners and their unique strengths and weaknesses and guide you in making the most effective decisions. The partner scorecard idea we are presenting here has been tested and vetted in live companies, and it can help you to drive patner agreements without wasting a lot of time and money! 
'Strategy without tactics is the slowest route to victory. 

Tactics without strategy is the noise before defeat.'

Sun Tzu
The Art of War
The example partner scorecard I share with you below is the result of much work at my past companies, where we wanted to expand a technology software and services business aggressively into new markets by partnering with local players. At one company, within 2 years, we signed up several partners and started generating new revenue streams in several new international markets. 
Example Partner Scorecard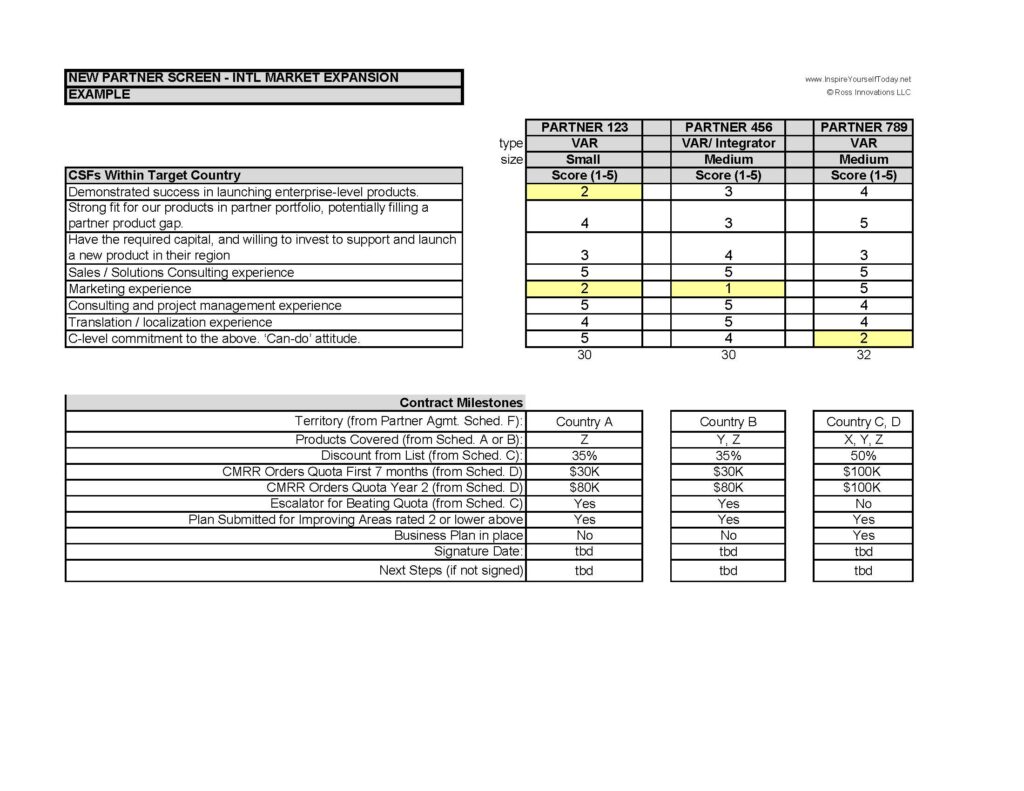 The Partner Scorecard can be used to screen partners by defining the Critical Success Factors (CSFs) that we want in advance. This enables our team to objectively evaluate potential partners against those criterion, on a scale of 1-5, where 5 is an excellent match, and 1 and 2 are both concern areas that must be addressed before taking on that partner.
In this Scorecard example, there are 8 Critical Success Factors we have identified. So, there is a maximum score of 40 points (8x5pts) for each partner. (you can use weighting to be even more precise) Here, our scores are between 30 and 32, with several 1's and 2's. Note that an agreement cannot be signed with any partner if there are any scores of 1 or 2 and there has not been an approved plan detailing how we will improve those low scores.
The bottom half of the scorecard shows your progress against the partner sales process, and can include dates that milestones have been accomplished, including agreement with the partner on sales quota expectations. This part of the scorecard keeps key milestones in front of us and visible, outlines the schedules in the contract that are related to each item, and pushes us toward a successful execution. We want to see the partner and our company sales leader agree together on the business plan for quota achievement and how we will address any low scores – before the contract is signed!
"Our success over the years at Microsoft has been based on partnerships."

Bill Gates
Co-founder Microsoft
A partner can give you access to a new customer base, new products, new verticals and new geographies. They can help you dramatically increase the growth of your company. It is a fantastic way to expand into new markets. But you know if you have tried it before, that partnering can take significant time and effort to put in place, and there are costs that will be incurred in the setup and implementation of a partner – all before you close the first order with them!
The Bottom Line
The Partner Scorecard is a tested and proven tool that can help systematically and objectively evaluate partners who can help you penetrate new markets. If you discipline yourself to utilize the Partner Scorecard as a tool in your partnering process, and use it to execute on the milestones to sign partners, you will be applying proven steps that can help take your business all the way to the top!
---
Ready to explore your potential?